Sweetwater Creek Campground

Sweetwater Creek Campground is located near Canton and is accessed from Hwy 20/Knox Bridge Hwy (driving directions to Sweetwater Creek Campground). The US Army Corp of Engineers manages the campsite through their Lake Allatoona office and hires a private contractor to run the campground.

There are 151 campsites (campground map). One hundred and eighteen sites have 50 amp electric and water hookups. There are a range of different campsites available, beyond just choosing a site with or without water and electric. Premium sites are open on one side to the shore of Lake Allatoona. There are also double sites and a large group camping facility (nine sites and a group shelter). Sweetwater Creek Campground has hot showers and a coin laundry facility. The restrooms and two campsites are handicapped accessible.

Fees - $18 - $56 per night, $225 for the group campsite (subject to change).

Kids' Stuff - There are two swimming areas with nice sandy beaches and two playgrounds. You can fish in Lake Allatoona from the shore, provided you abide by Georgia's fishing regulations.

RVs - There are two sites with sewer hookups. Pads vary from 23 - 75 ' and most of these are back-in sites. There is a a dump station available.
Reservations - Some sites can be reserved (by phone at 877-444-6777 or online at recreation.gov). Reservations must be made 3 days in advance, there is a 2 night minimum stay on weekends, a 3 night minimum stay on holidays, and a 14 day maximum stay limit.
The Sweetwater Creek Campground Map provides details about which campsites can be reserved.
No Camping Reservations? - There are first-come, first-served campsites that cannot be reserved. You can drive out and take your chances or call the the Allatoona Lake Project Management Office at 678-721-6700 to check if there are any open campsites.
Operating Season - Sweetwater Creek Campground opens in March and closes in early September. You can call the management office (see above) or check the US Army Corp of Engineers Lake Allatoona website for the exact dates.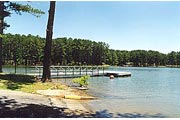 Campground Access / Hours - Campground opens at 7 a.m. on Fridays and closes at 3 p.m. on Sundays March, April, and August during the recreation season.  Campground will be open daily from 7 a.m. to 10:30 p.m. May, June, and July. (Exceptions:  During the week of April 2-8 and the week of August 27-31, campground will be open daily from 7 a.m. to 10:30 p.m.)
Pets - You are allowed to bring two pets, provided you adhere to a few rules. Pets are not allowed in and around any buildings (shower, bathroom, laundry) or on any of the swimming beaches. Dogs must be kept on a 6 feet or less leash when you are walking with them away from your campsite. You cannot leave your dog tied up at your campsite when you are not around.
Boat Launch - Campers in Sweetwater Creek Campground are provided free access to the campground's boat launch.
Other rules and regulations - A maximum of 6 people can stay overnight at each campsite and up to 6 people can visit with you during the the day. Guests are welcome from 7 AM until 10 PM and must pay a $4 park entry fee (per vehicle, with up to six people, or per-person if they walk in). There is a limit of 3 vehicles per campsite. There are no ATV's or ORV's allowed in the park.
Return to the top of the page or continue scrolling down for driving directions.
---
Sweetwater Creek Campground driving directions.
To obtain directions from your location click on "to here" on the map below, enter information for your starting location (for example your street, city, state, and zip code) in the box that opens, and then click on the GO button. The directions and a map of the route will open in a new browser window. You can interact with the map below (scroll around, zoom in or out, etc.) or click on the text "View Larger Map" below this map to open up a new window with an interactive map of the local area around Sweetwater Creek Campground.
---
Lake Allatoona Camping | Clark Creek North Campground | McKaskey Creek Campground | McKinney Campground | Old Highway 41 #3 Campground | Payne Campground | Red Top Mountain Campground | Sweetwater Creek Campground | Upper Stamp Creek Campground | Victoria Campground
---